PHOTOS COURTESY OF BIRDLIFE MALTA
SWANS FLYING IN TO ST THOMAS'S BAY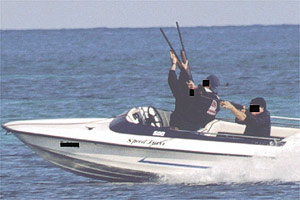 HUNTERS CAUGHT IN THE ACT!

HAULING IN THE 'BOOTY'


HUNTERS' BOSS MAKES WEAK ATTEMPT TO GET HIS HEAD OUT OF THE NOOSE
Accused not FKNK members

None of the three men accused of shooting the swans at St Thomas Bay last Sunday were members of the Federazzjoni Kaccaturi Nassaba Konservazzjonisti, Lino Farrugia, FKNK secretary, said yesterday.

In a statement, Mr Farrugia said that the federation therefore was not in a position to take any disciplinary action against the accused.

He said that in letters and other articles in the media "one should not pass comments of a generic nature that would harm the sport of hunting and trapping".

The federation had already condemned the incident in the strongest manner as every serious hunter and trapper had done, Mr Farrugia said.